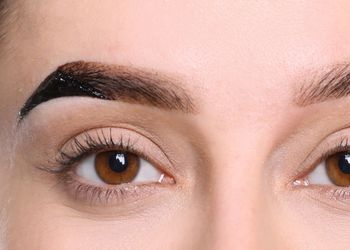 WHAT ARE HENNA BROWS?
HENNA BROWS ARE A TEMPORARY BROW TATTOO USING AN ORGANIC POWDER AND MIXING SOLUTION.
HENNA BROW ART IS A NATURAL DYE MADE FROM PLANTS. IT GIVES NATURAL TINTING WITH THE TEMPORARY TATTOO EFFECT ON THE SKIN. HENNA TINTS NORMAL AND FRY SKIN THE BEST. OILY SKIN WILL NOT ABSORB THE TINT THAT MUCH AND WON'T KEEP THE SKIN TINTED FOR THAT LONG.
THEY LAST LONGER THEN TRADITIONAL BROW DYE, LASTING 6-8 WEEKS ON THE BROW HAIR, AND UP TO 10 DAYS ON THE SKIN.
THEY'RE GREAT FOR;

BROW TRIALS FOR THOSE CONSIDERING
PERMANENT MAKEUP BUT UNSURE OF WHAT COLOR AND STYLE TO GO WITH.
LONGER LASTING BROWS THEN TRADITIONAL BROW HAIR COLOR FOR PEOPLE WHO DON'T
WANT TO PUT ON MAKEUP.
BETTER GREY AND LONGER LASTING COVERAGE
CONTRAINDICAITONS
IF YOU HAVE ANY SKIN TREATMENTS, LASER HAIR REMOVAL, PLASTIC SURGERY OR OTHER SKIN ALTERING PROCEDURES, IT MAY RESULT IN ADVERSE CHANGES TO YOUR TREATMENT. DURING AND AFTER THE PROCEDURE TEMPORARY REDNESS AND/OR ITCHING MAY OCCUR.
DEPENDING ON THE SKIN TYPE, SMALL SCABS WITH A LOSS OF COLOR MAY OCCUR AND CHANGE IN THE COLOR INTENSITY AND IS COMPLETELY NORMAL.
COLOR REFLECTION DEPENDS ON THE NATURAL SKIN PIGMENT.
THE HENNA IS ABSORBED DIFFERENTLY DUE TO DIFFERENCES IN SKIN TYPES, THUS THERE IS NO GUARANTEE FOR THE TREATMENTS SUCCESS
ESPECIALLY WHEN WORKING ON COMBINATION SKIN, SUN DAMAGED SKIN, OILY SKIN, DEHYDRATED SKIN.
THE SHAPE IS DETERMINED ACCORDING TO THE FACE PROPORTIONS, SYMMETRY, EXISTING BROWS AND STYLE PLEASE UNDERSTAND THAT, WHILE EVERY ATTEMPT WILL BE MADE TO PROVIDE YOU WITH YOUR CHOSEN COLOR, EVERYONE'S HAIR ABSORBS COLOR DIFFERENTLY AND FINAL RESULT MAY HAVE SLIGHT VARIATIONS.
THE HENNA RESULT WILL GRADUALLY LIGHTEN STARTING FROM DAY 2 AND FADE DUE TO VARYING FACTORS. NEW APPLICATION WILL BE REQUIRED WITHIN 1-4 WEEKS TO MAINTAIN THE COLOR.
BEFORE CARE
YOU MUST BE OFF ACCUTANE OR ANY PRESCRIBED ACNE MEDICATIONS FOR 10 DAYS. NO EXCEPTIONS!
DO NOT HAVE ANY CHEMICAL PEELS, MICRODERMABRASION, MESOTHERAPY, OR ANY OTHER INTENSE TREATMENTS WHICH WILL CAUSE FASTER SKIN CELL REJUVENATING AND CAUSE SKIN IRRITATION 3-4 WEEKS BEFORE THE PROCEDURE.
PLEASE AVOID PUTTING HEAVY CREAMS AND OILS ON THE BROW AREA THE DAY OF YOUR TREATMENT. THE SKIN SHOULD BE AS DEHYDRATED AS POSSIBLE FOR THE APPLICATION TO ABSORB PROPERLY.
IT IS OK TO ARRIVE WITH MAKEUP ON, WE WOULD REALLY LIKE TO SEE YOUR BROW STYLE AND HOW YOU PREFER IT LOOKS DRAWN ON. UNLESS IT IS A LONG LASTING GEL BECAUSE WE WOULD HAVE TO USE OIL TO REMOVE IT WHICH WOULD INTERFERE WITH THE APPLICATION PROCESS.
PLEASE ARRIVE TO YOUR APPOINTMENT WITH NO MAKEUP ON YOUR EYE AREA OR ON YOUR FACE TO AVOID BREAKOUTS AND IMPROPER RETENTION UNLESS YOU ARE BOOKING THIS WITH A FACIAL.
AFTERCARE
AVOID SUN AND SAUNAS/POOLS FOR 24-48 HOURS AFTER TREATMENT
MOISTURIZE THE AREA WITH YOUR REGULAR MOISTURIZES TO KEEP THE SKIN HYDRATED
AND AVOID FLAKING. DO NOT RUB THE AREA
PLEASE NOTE THAT SUN EXPOSURE FADES HENNA VERY QUICKLY. IF YOU WANT YOUR BROWS TO LAST, COVER THEM WITH SPF AND SAHDE THEM WITH A HAT.
© Genn Shaughnessy for the Backstage Stylist 2022
©© This work is licensed under a Creative Commons Attribution 4.0 International License
BOOK YOUR HENNA BROW APPOINTMENT HERE